Denmark Thrills Adventure Park.
Open 10am – 5pm weekends and 10am – 5pm every day during school holidays.
Entry by General Admission – $10 per person. (Children under 6 and seniors free)
Includes: 60m flying fox, climbing & abseiling, paving maze, giant tree swings, courage bridge, bubble soccer, zorbing, bocce and tarzan adventure.
Denmark Thrills Adventure Park, is set amongst the Giant Karri Trees at Castelli Estate on top of Mount Shadforth, come along for a Thrilling day out amongst nature; laugh, giggle, smile and delight at the great activities we have in store for you!
Denmark Thrills aims to provide a profitable, fun, safe, healthy attraction that supports the positive growth of our community, by highlighting the unique environment that Denmark has to offer.
This park has been developed with the love of many families in the Denmark Community. Who have brought what they have to give with the intention to create somewhere joyful, for the good of our town and regions development as a whole. I give thanks for The Castelli Group and all of our other local people and businesses who have contributed their time, energy and resources to see this park come to life.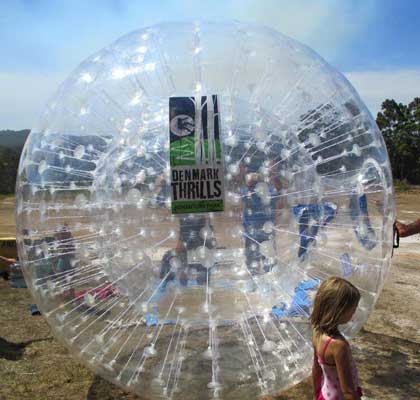 Denmark Thrills Adventure Park
Bringing JOY to the child within us all!
© 2016 Denmark Thrills Adventure Park